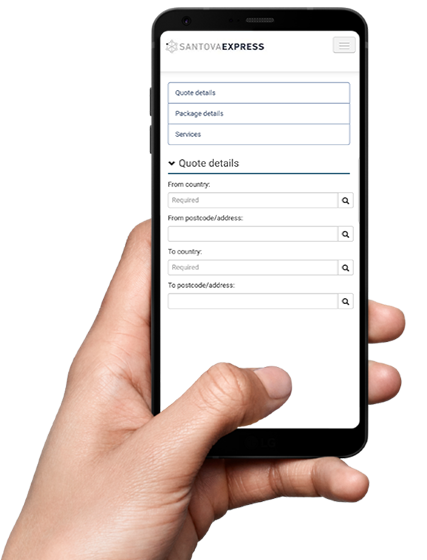 Online express courier booking system – available anytime, anywhere
Our market-leading online booking system provides an instant rate generator, online booking tool and real-time track and trace capabilities – offering complete visibility and control for all your express courier shipments.
Contact our Santova Express team for more information on international routings, lead times, quotes and to get access to our online platform.
Benefits of Santova Express:
Automated Booking System
Instant quotes and bookings available
Simply book international courier shipments online, anytime and anywhere
Multiple Service Providers
Our competitive advantage lies in our partnerships with various courier service providers to ensure we provide our customers with the best service at cost-effective rates to each origin and destination country.
Rate Procurement
Our global buying power, bulk consolidations and affiliations with leading service providers allow us to secure competitive rates for our customers.
We are particularly competitive on major trade lanes, such as import/export shipments from China, Taiwan, Japan, Netherlands, UK, Italy and France.
Real-time Tracking Updates
Real-time tracking updates are available online, with the additional option to setup email notifications on request.
Flexible Payment Options
We offer customers the added benefit of flexible credit terms and global account management.
Client-centric Approach
Although many of our customers opt for self-bookings online, we pride ourselves in our service delivery and offer dedicated courier specialist to be your single point of contact should booking or tracking assistance be required.